| Board Members | Audit | Human Capital Management and Compensation | Nominating and Corporate Governance | Finance |
| --- | --- | --- | --- | --- |
| | | | | |
| | | | | |
| | | | Nominating and Corporate Governance | |
| | | Human Capital Management and Compensation | Nominating and Corporate Governance | |
| | | Human Capital Management and Compensation | | |
| | | Human Capital Management and Compensation | Nominating and Corporate Governance | |
| | | | | |
| | | Human Capital Management and Compensation | Nominating and Corporate Governance | |
Committee Charters
John U. Clarke
John Clarke has served as director since July 2019. Mr. Clarke currently serves as a senior advisor and partner of Turnbridge Capital, LLC, a private equity firm investing in companies focused primarily on energy services and equipment and infrastructure, a position that he has held since 2011. From 2004 through 2009, Mr. Clarke served as the chief executive officer and executive chairperson of NATCO Group, Inc. ("NATCO"), a publicly traded oilfield equipment manufacturer and related services provider. During a two decade period beginning in the mid-1970s, Mr. Clarke served as the Chief Financial Officer or otherwise as a senior executive in several large, publicly-traded, energy-related companies, including Transco Energy Company, The Houston Exploration Company, Cabot Oil & Gas Corp., and Dynegy Inc. Mr. Clarke also served as a Managing Director of Simmons & Company from 1996 to 1997. Previously, Mr. Clarke has served as a director of Glori Energy, Inc. from 2011 to 2015, Tesco Corporation from 2011 to 2013 and Penn Virginia Corporation from 2009 to 2016. Mr. Clarke earned a B.A. in Economics from the University of Texas and a M.B.A. from Southern Methodist University. Mr. Clarke brings to the Board a wealth of managerial experience in publicly traded companies, including as both a chief executive officer and chief financial officer.
Bruce A. Thames
Bruce Thames joined the Company in April 2015 as Executive Vice President and Chief Operating Officer. He was promoted to President and Chief Executive Officer and appointed as a member of the Board on April 1, 2016. Prior to joining Thermon, Mr. Thames was Senior Vice President and Chief Operating Officer of TD Williamson in Tulsa, Oklahoma, a position he held since 2012. TD Williamson manufactures and delivers a portfolio of solutions to the owners and operators of pressurized piping systems for onshore and offshore applications. He joined TD Williamson in 2005 as Vice President, North America and also served as Vice President and General Manager, Eastern Hemisphere from 2010 to 2012. Mr. Thames began his career with Cooper Industries (formerly Intool), where he spent twelve years in various roles within the product engineering, marketing and operations groups. Mr. Thames then joined GE Energy (formerly Dresser Flow Solutions) ("Dresser") and served primarily as the Director of North American Operations and Product Director for Ball Valves globally for Dresser's Valve Group during his tenure from 2002 to 2005. Mr. Thames holds a B.S. in Mechanical Engineering from The University of Texas at Austin. Mr. Thames brings extensive leadership skills, international acumen, product innovation, operational experience in lean six/sigma and industry knowledge to the Board.
Linda A. Dalgetty
Linda Dalgetty has served as a director since May 2018. Ms. Dalgetty is currently the Chief Financial Officer of Shock Trauma Air Rescue Service (STARS), a charitable non-profit organization providing helicopter air ambulance services to Western Canada. Prior to joining STARS, Ms. Dalgetty served as Vice President, Finance and Services at the University of Calgary, from 2014 until 2021. In her role at the University of Calgary, she had direct responsibility for a large portfolio of university departments, including finance, human resources, information technology, risk, ancillary operations and internal audit. Prior to joining the University of Calgary in 2014, Ms. Dalgetty served as Senior Vice President and Chief Financial Officer of Saxon Energy Services, Inc. from 2013 to 2014, during which time she was responsible for all of the financial functions of a global organization, including reporting, planning, operational accounting and information technology. Prior to her role at Saxon, Ms. Dalgetty served from 1995 to 2013 in various roles of increasing responsibility at Nutrien Ltd. (NYSE: NTR) (formerly, Agrium Inc. ("Agrium")) and Agroservicios Pampeanos SA (a wholly-owned Argentinian subsidiary of Agrium), with her final role being Agrium's Chief Information Officer. Ms. Dalgetty began her early career working as an audit manager with Ernst & Young LLP from 1989 to 1995. Ms. Dalgetty holds a bachelor of commerce degree from the Haskayne School of Business at the University of Calgary. She is also a fellow of the chartered professional accountants and earned an associate diploma in agribusiness from the University of Guelph. Ms. Dalgetty brings broad-based North American and international financial expertise and business experience to the Board. In addition, Ms. Dalgetty has led crisis management efforts related to cybersecurity matters.
Roger L. Fix
Roger Fix has served as director since July 2019. Mr. Fix served as the President and Chief Executive Officer of Standex International Corporation ("Standex"), a publicly traded diversified manufacturing and marketing company from 2003 until his retirement in 2014. He was Standex's Chief Operating Officer from 2001 to 2002. Mr. Fix served on the Standex board of directors from 2001 to 2017 and was non-executive chairman of Standex from 2014 to 2016. Before joining Standex, he was employed by Outboard Marine Corporation, a marine manufacturing company, as Chief Executive Officer and President from 2000 to 2001 and Chief Operating Officer and President during 2000. He served as Chief Executive Officer of John Crane Inc., a global manufacturer of mechanical seals for pump and compressor applications in the process industry, from 1998 to 2000 and as its President - North America from 1996 to 1998. He was President of Xomox Corporation, a manufacturer of process control valves and actuators, from 1993 to 1996. Mr. Fix has served as a director of Commercial Vehicle Group, Inc. from 2014 and previously served as a director of Flowserve Corporation ("Flowserve") from 2006 to 2022 and as the non-executive chairman of Flowserve from 2017 to 2021. Mr. Fix holds a M.S. in Mechanical Engineering from The University of Texas at Austin and a B.S. in Mechanical Engineering from the University of Nebraska. Mr. Fix brings a wealth of experience in industrial manufacturing and international business to the Board as well as significant experience as a chief executive officer of a publicly traded company.
Marcus J. George
Marcus George has served as a director since April 2010. In 2015, Mr. George co-founded and is currently a partner at Onward Capital LLC ("Onward Capital"), a private equity firm focused on investing in and growing lower middle market industrial businesses. Mr. George previously served as a partner at the private equity firm CHS Capital LLC ("CHS") until March 2015. CHS is one of our former private equity sponsors. Mr. George joined CHS in 1997 and was promoted to partner in 2007. Prior to joining CHS, Mr. George was employed by Heller Financial, Inc. in the corporate finance group. He was also an associate at KPMG from 1991 to 1993. Mr. George previously served as a director of GSE Holdings, Inc., a global provider of engineered geosynthetic containment solutions for environmental protection and confinement applications, from June 2011 to August 2014. Mr. George holds a B.B.A. from the University of Notre Dame and a M.B.A. from the University of Chicago. We believe that Mr. George's substantial experience in private equity investments focused on infrastructure and industrial products and financial and capital markets matters bring important and valuable skills to the Board.
Kevin J. McGinty
Kevin McGinty has served as a director since June 2012. Mr. McGinty currently serves the private investment firm Ursula Capital Partners as a special limited partner, a position that he has held since 2017. He is also a retired senior advisor of Peppertree Capital Management, Inc. ("Peppertree"), a private equity fund management firm from which he retired in 2015. Prior to founding Peppertree in January 2000, he served as a managing director of Primus Venture Partners from 1990 to 1999. In both organizations, Mr. McGinty was involved in private equity investing, both as a principal and as a limited partner. From 1970 to 1990, Mr. McGinty was employed by Society National Bank, now KeyBank, N.A., where in his final position he was an executive vice president. Mr. McGinty has over 40 years of experience in the banking and private equity industries, including 20 years as an officer of a bank and 20 years serving in the role of managing director for a variety of private equity firms. Mr. McGinty previously served as a director of Marlin Business Services, Inc. (NASDAQ:MRLN) from February 1998 to 2014. He also has 25 years of experience serving as a director of privately held companies. Mr. McGinty has also held leadership positions with various cultural and community organizations. Mr. McGinty received his undergraduate degree in economics from Ohio Wesleyan University and his M.B.A. in finance from Cleveland State University. The Board views Mr. McGinty's independence, his banking experience, his experience in private equity, capital markets and mergers and acquisitions, as well as his experience as a director of other companies and his demonstrated leadership roles in business and community activities as important qualifications, skills and experience for serving as a director.
John T. Nesser III
John Nesser has served as a director since June 2012 and has been our independent chairman of the Board ("Chairman") since July 2019. Since July 2013, Mr. Nesser has served as the co-founder, manager, co-chief executive officer and director of All Coast, LLC ("All Coast"). Following its acquisition of Hercules Offshore Domestic Liftboat Fleet in July 2013, All Coast owns and operates the largest fleet of liftboats for the offshore oil and gas market in the Gulf of Mexico. Mr. Nesser retired as executive vice president and chief operating officer of McDermott International, Inc. (NYSE:MDR) ("McDermott") in 2011. He joined McDermott, a global engineering, procurement, construction and installation company, with a focus on the energy industry, as associate general counsel in 1998 and spent over ten years in various senior management roles, including as general counsel, chief administrative officer and chief legal officer. Previously, he served as a managing partner of Nesser, King & LeBlanc, a New Orleans law firm, which he co-founded in 1985. Mr. Nesser served as a director of Layne Christensen Company (NASDAQ:LAYN) from August 2013 until its acquisition by Granite in June 2018. Mr. Nesser is a member of the Texas and Louisiana Bar Associations (inactive) and is also a member of the Louisiana State University Law Center Board of Trustees. Mr. Nesser holds a B.S. in Business Administration, majoring in finance, and a J.D. from Louisiana State University. We believe that Mr. Nesser's significant prior experience in the roles of chief operating officer and general counsel and his legal, corporate governance and operational backgrounds make a significant contribution to the Board's current mix of skills and experience and qualify him to be a director.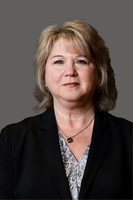 Dr. Angela Strzelecki
Dr. Strzelecki is a senior executive with global management responsibility for the pharmaceutical solutions business of IFF. Previously, she was a career executive with DuPont de Nemours, Inc. beginning as a senior chemist and rising through the ranks to the position of Global Business Director, Pharmaceutical Solutions. During her career, she has served in numerous roles of increasing responsibility, including global operations and manufacturing, strategic planning, M&A, integration and business transformation, sales and marketing as well as technology and innovation. Her career has spanned an array of end-user markets including specialty industrial coatings, construction materials, electronics and nutrition and bioscience. Dr. Strzelecki earned a Bachelor of Science Degree in Chemistry from King's College and a doctorate in Chemistry from The Pennsylvania State University.